HONDA 2019 CRF250 RALLY TYPE LD: First ride review from Japan to check actual foot grounding
Reported by the new off-road moto magazine GO RIDE
HONDA 2019 CRF250 RALLY TYPE LD: First ride review from Japan to check actual foot grounding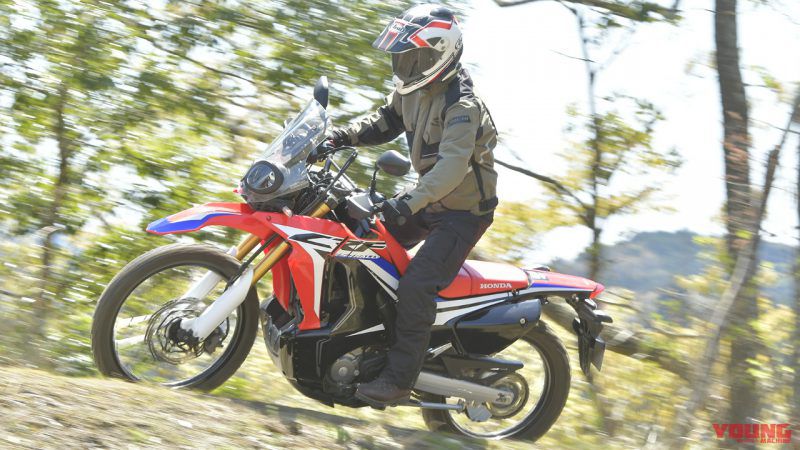 The HONDA CRF250 RALLY is popular as an easy-handling all-round model that can be used both in the touring and on the forest road. However, some riders might be afraid of its seat height. We had a test ride on the Type LD lately released as a low-down model, to report its features.
Text by Hiroyasu OGAWA (chief editor of the off-road motorcycle magazine GO RIDE), Photo by Atsushi SEKINO, test ride by Yuko KOIZUMI (assistant editor).
Outstanding foot grounding makes me feel a more compact body
The Type LD is a low-down version of the CRF250 RALLY with a quite lower seat height by 65 mm. We had a test ride to confirm advantage and disadvantage about the lowdown.
The CRF250 Rally has front suspensions 30 mm longer than the CRF250L and the extended rear wheel travel by 25 mm by the newly designed rear suspension link. Although acquiring an elastic ride feeling by those changes, it has a worse foot grounding than the CRF250L because of the 895 mm seat height. 
That's why the type LD has released, with the seat height shortened by 65 mm on the same body as the CRF250 RALLY. With my memorable riding experience on the CRF250 Rally during 2 years, I felt the Type LD more compact in body size by putting both legs completely on the ground. (body height: 172cm) It could turn lightly on the paved road as if it had been a road type model by its lower center of mass. I felt a good suspension stroke even for its shortened length, without any complaint in running on the forest road. In fact, the outstanding foot grounding property made me ride it without any anxiety in U-turn, so I thought it increasing its road handling ability in the forest road touring. However, it has also a minimum ground clearance of 205 mm as if it were a lower adventure type. So I recommend to choose appropriate lines on the rough road carefully, not to hit any obstacle to the under cowl. 
In conclusion, the Type LD would be with one of the the highest off-road handling ability in all the adventure models with current popularity. It would be quite better than the based model at handling in the street, on the highway and in the forest road touring. As a partner of your long touring, the Type LD should be the one to make you feel quite reliable in its easy handling.
Some effects of the 65 mm lower seat height
HONDA 2019 CRF250 RALLY Type LD [Specifications]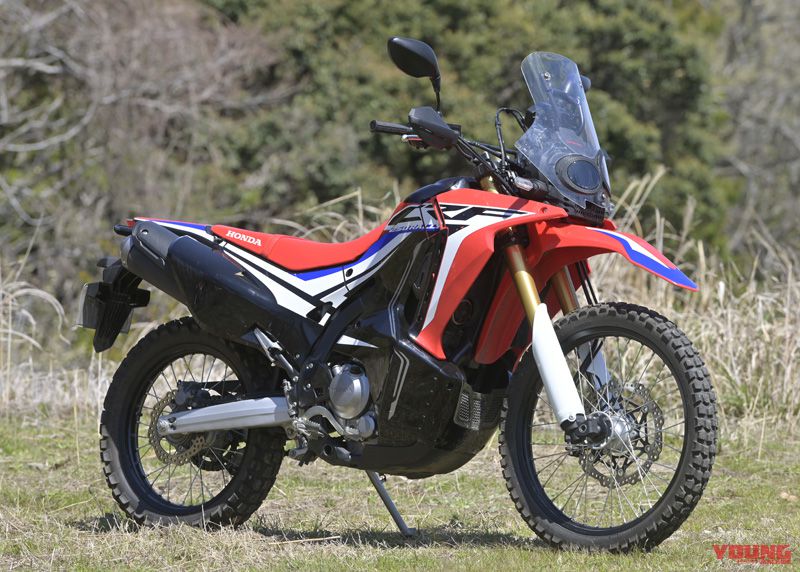 Overall length: 2075, Overall width: 900, Overall height: 1360, Wheelbase: 1430, Ground clearance: 205, Seat height: 830 (each mm), Curb mass: 156 kg, Engine: Liquid-cooled 4-stroke single-cylinder DOHC 4-valve, Displacement: 249 cc, Bore x Stroke: 76.0 x 55.0 mm, Compression ratio: 10.7:1, Maximum output power: 24 ps / 8500 rpm, Maximum torque: 2.3 kg-m / 6750 rpm, Fuel system: FI, Transmission: 6-speed, Fuel capacity: 10 L, Caster angle/ Trail: 7°35′ / 113 mm, Front brake: Disc, Rear brake: Disc, Front tire size: 3.00-21, Rear tire size: 120/80-18, Price: 702,000 yen (including 8% tax), Color: Extreme Red, Black
※本記事の内容は公開日時点のものであり、将来にわたってその真正性を保証するものでないこと、公開後の時間経過等に伴って内容に不備が生じる可能性があることをご了承ください。