New coming of YAMAHA YZF-R3 with the MONSTER ENERGY coloring on the US market
Will the domestic YZF-R25 follow this way?
New coming of YAMAHA YZF-R3 with the MONSTER ENERGY coloring on the US market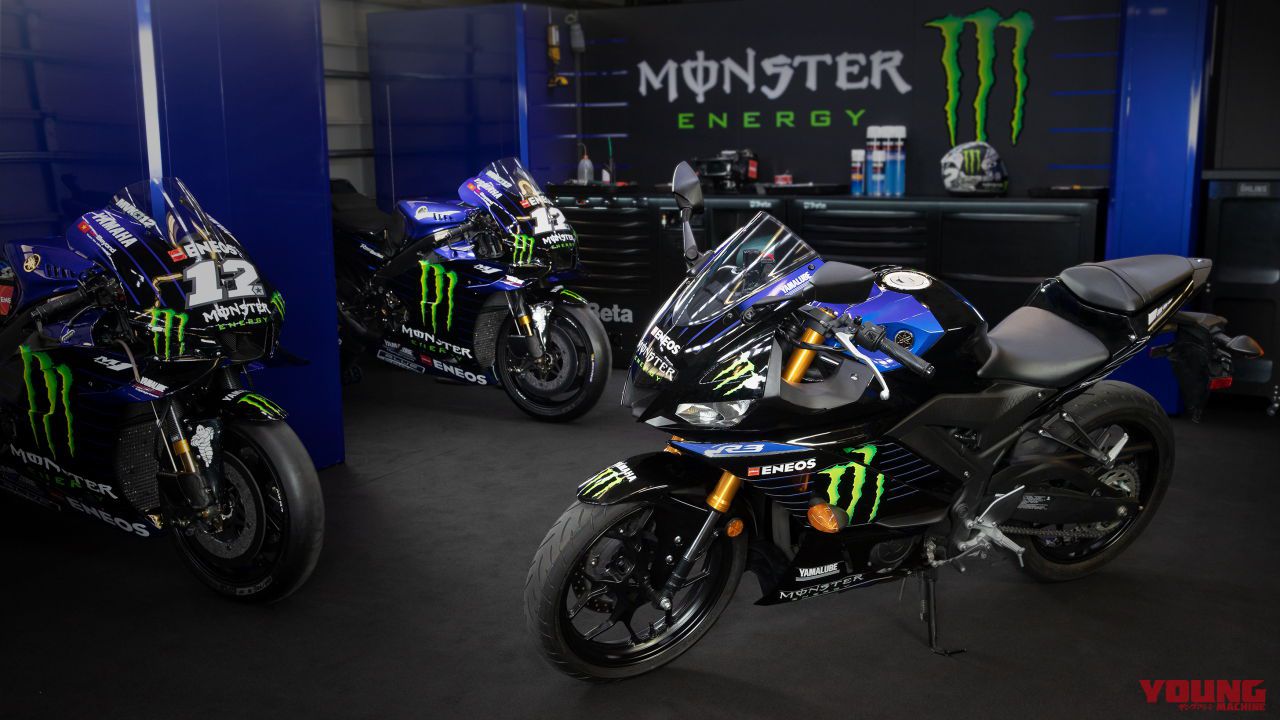 YAMAHA USA has announced the new release of 2020 MONSTER ENERGY YAMAHA MotoGP Edition YZF-R3 on the US market, which is colored with black-by-blue like the YZR-M1, which is the factory machine of the YAMAHA MotoGP factory team called "MONSTER ENERGY YAMAHA MotoGP". Could it be expected the same coloring to the domestic YZF-R25/R3 already released in the JP market?
Get the "R" World Racing DNA
The reason why the YAMAHA factory machine YZR-M1 has changed its coloring from the former blue-based one to the black-by-blue one is to alter the main sponsor of the team to MONSTER ENERGY. The Race-Blue with the expression of YAMAHA Racing DNA is combined with the MONSTER ENERGY coloring with green scratch nail marks on the black-based body, that gives a cool impression to this machine. It would go without saying that a replica one had been strongly expected on the market.
A few motorcycles with backbone type frame and the YZF-R125 with the same coloring have been already released in the Asian market, also done the YZF-R125 in the European market.
And this time the new YZF-R3 with the factory replica color has been announced in the US market. The center air duct and the others inherited from the larger YZF-R1 emphasize the YAMAHA Racing DNA, which seem more attractive by having a factory styling. And when will the domestic model with the same coloring appear on the market? The YZF-R25 has been on the market earlier than the new YZF-R3, which has just released on June 10th 2019, so it would be natural to have a look antecedently at the YZF-R25 with the replica coloring. It might be announced before the SUZUKA 8-hour Endurance, where the TECH21 color will play a leading act. And there remains a matter of concern how much the price will get higher.
2020 MONSTER ENERGY YAMAHA MotoGP Edition YZF-R3 [U.S. version]
The European version of YZF-R125 with the factory coloring
YAMAHA EUROPE has announced the YZF-R125 on May 9th, with a mischievous headlight design, which has enough equipments such as the inverted front forks. It should be welcomed to be released in Japan.
※本記事の内容は公開日時点のものであり、将来にわたってその真正性を保証するものでないこと、公開後の時間経過等に伴って内容に不備が生じる可能性があることをご了承ください。