YAMAHA Factory with "TECH21-COLOR" aims for the 5th consecutive victory in Suzuka
Suzuka 8-Hour Endurance Race News
YAMAHA Factory with "TECH21-COLOR" aims for the 5th consecutive victory in Suzuka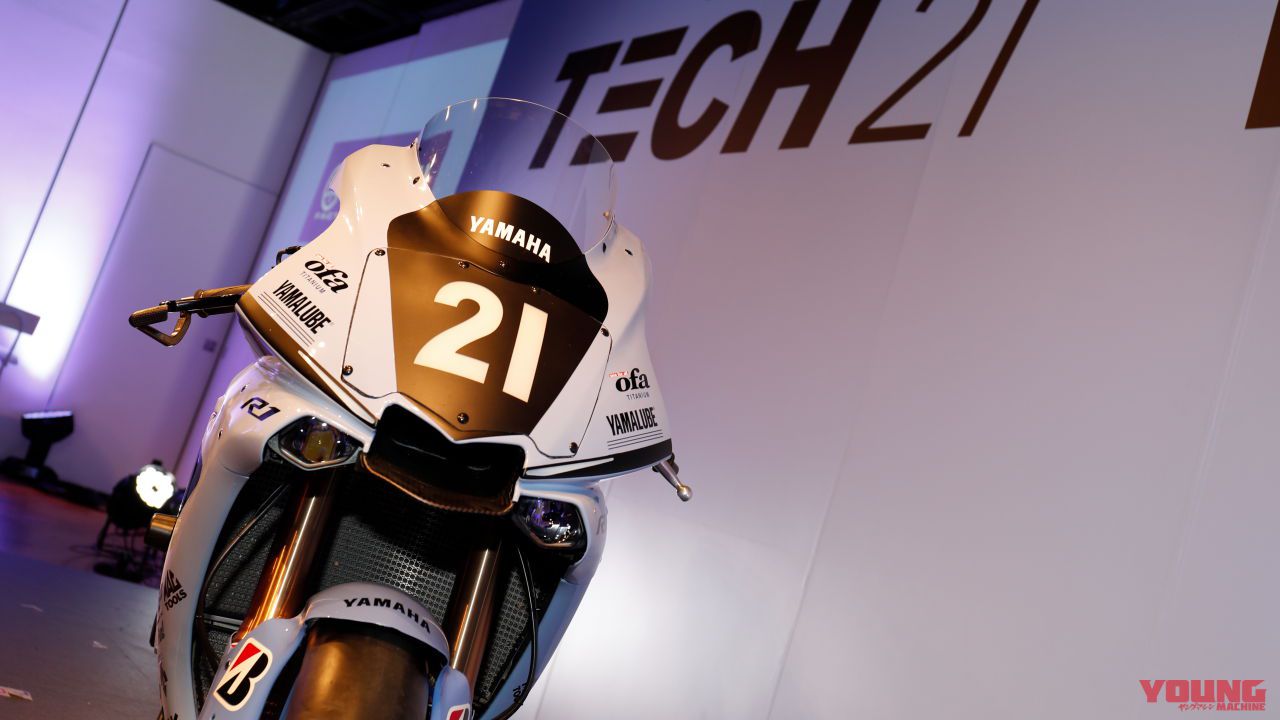 The racing system of YAMAHA Factory Racing Team for Suzuka 8-hour Endurance has been announced. YZF-R1 with the legendary coloring and the ace number "21", which markes the 21st anniversary this year, made us excite with the memories of 1980's. 
Light Purple Coloring Attracts Attention!
YAMAHA announced the racing system for Suzuka 8-hour Endurance at the presentation held in Tokyo on 22th May, and clarified the lineup of riders for both YAMAHA FACTORY RACING TEAM, aiming for 5th consecutive championship and YART Yamaha Official EWC Team. All through the presentation, the most attractive was the "old and new" coloring of YAMAHA FACTORY RACING TEAM.
YZF-R1 colored with legendary "YAMAHA TECH21" was unveiled after intoroducing Katsuyuki NAKASUGA, chief rider of YAMAHA FACTORY RACING TEAM and Wataru YOSHIKAWA, who leads this team as a director.
"We wii fight this year with 1985-TECH21 coloring so that many fans who remember the exciting era of 1980's will come back again to the circuit." said Keitaro HORIKOSHI, General Manager of Motor Sports Strategy Division.
YAMAHA FACTORY RACING TEAM fighting with YZF-R1 colored with TECH21, aims for the 5th consecutive victory with NAKASUGA and two fighters from the World Superbike, Alex Lowes and Michael van der Mark. Also YART YAMAHA Official EWC Team aims for the podium with Broc Parkes, Marvin Fritz, and Niccolo Canepa.
"I don't know much about TECH21 model directly but I saw it in the museum and heard it from my senior colleagues. It's very honored to ride the one with commemorable coloring for the history of YAMAHA racing. Last year we won the 4th consecutive championship, but I fell down at the qualify and couldn't fight at the final. This year,  it's been 3 years to team up with Alex and Michael, so I want to challenge the 5th consecutive victory with them." NAKASUGA said.
"Our riders have worked together for 3 years. Not only NAKASUGA but the others from World Superbike keep good condition, so I don't have any worry about their combination. However, I know the rivals raising their performances, so we are about to rebuilt the performance after breaking all the balance of the machine." said the director YOSHIKAWA.
"We set a high goal of 220 laps to beat the rivals, and for that purpose we have evolved YZF-R1, which has been tuned for 5 years,  to improve power output, fuel efficiency and reliability." said Koichi TSUJI, General Manager of Motor Sport Division, with a certain confidence to the 5th consecutive victory. 
After this presentarion, the venue was covered with many photos of FZR750R [1985] and the era of YAMAHA TECH21. The team YAMAHA TECH21 fought in Suzuka 8-Hour with Tadahiko TAIRA and Kenny ROBERTS in 1985. At that time TAIRA was appointed to a TV commercial presented by SHISEIDO, one of the biggest cosmetic brand in Japan,  which caused a huge sensation. SHISEIDO continued to support YAMAHA untl winning the championship with TAIRA and Eddie LAWSON in 1990. Also some TECH21 replicas such as FZR250 and YSR50 were released at that time.
It is a disappointment that no cosmetics of SHISEIDO is to be reselled this year but the limited version of YZF-R1 is to be expected. Furthermore, there comes a joy of seeing the riders with TECH21 racing suit.
The final of Suzuka 8-Hour Endurance this year will be held on 28th July (Sun).
※本記事の内容は公開日時点のものであり、将来にわたってその真正性を保証するものでないこと、公開後の時間経過等に伴って内容に不備が生じる可能性があることをご了承ください。