Honda Collection Hall 20th year special feature (3)
First ever Honda Cub Model F, produced in 1952, gets a run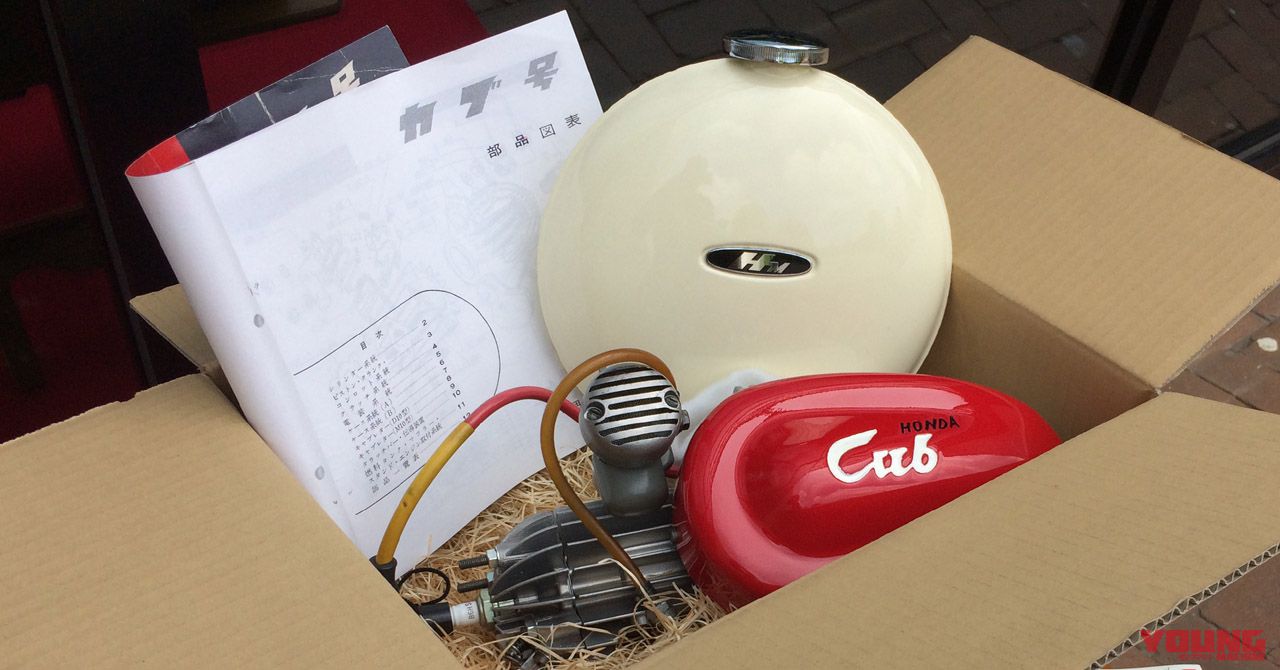 Celebrations for the 20th year of the Honda Collection Hall event were held at the south course of Twin Ring Motegi on 16th July 2018. As ever there were many racers for the movement assurance tests, but to commemorate the 20th anniversary there was a special show run of Honda machines from the company's very beginnings up until the present day.
The name "Cub" is derived from a bear cub
The Cub F model is a 6kg auxiliary engine mounted to the rear wheel of a bicycle, and is the model that built the foundation of Honda's great advance. Lovingly nicknamed the "White tank and red engine", it seems that it also won popularity with its design. The method of sales was unique, as an engine package was sold directly to bicycle stores that included all documents and mounting brackets placed into a 33x33x60cm cardboard box, and this is what kickstarted the Honda sales network nationwide in Japan. On another note, the origin of the naming "Cub" is derived from a bear cub, suggesting how the bike is free to roam and run around.
Friendlier to ride than Dream Model E
The first time Honda coined the name "Cub" was for the 1952 Cub Model F. However, this was not the name for the motorcycle, but the name for the 50cc auxiliary engine that was mounted to the rear wheel of a bicycle. At the time there were only about 20 Honda distributors throughout Japan, and engine packages were sent directly to approximately 50,000 bicycle stores, so this strategy is what contributed to a big hit in sales. This also became an opportunity to establish a Honda sales network nationwide.
To start the engine you have to pedal the bicycle at the same time. At that point in time disengage the clutch, and as the speed picks up connect the clutch and push start the engine to fire it up. After this, control the number of revs with a throttle lever system, and ride it. There is no transmission. The top speed is 35kph, and it seems thereafter this became the deciding factor for what would become the motorcycle speed limit. As for my test ride that lasted a little under five minutes, while it may have been short the time I did spend was precious. What did make an impact was how despite it looking very much like a bicycle, when riding it and controlling the engine with the throttle it felt more like a proper motorcycle. When you open the largish lever then all of a sudden you are pushed forward at speed, and against expectations it showed some power (the engine was bored out to 60cc at a later date). When taking a left turn you raise the pedal on the left-hand side, and it is essential to operate for ensuring a banked corner. Nevertheless, considering the Cub Model F is a vehicle from 65 years ago it runs pretty normally.
I have also ridden the Dream Model E , a bike that was produced by Honda in the early 1950s, that according to anecdote was ridden non-stop around the mountains of Hakone, Japan. However, I found the riding position uncomfortable, it emitted strange mechanical noises from various parts, and the operation of the shifter and brakes was awkward. This made for a thrilling, yet exhausting ride at all times. I'm sure that at the time this would have been a pretty high-end Dream model, but in the case of a same generation vehicle comparison, I felt that the Cub Model F was remarkably friendlier to ride. *Tester: Matsu (Young Machine)
News coverage: Honda Motorcycle Company / Honda Motorcycles Japan Photos: Toru Hasegawa
※本記事の内容は公開日時点のものであり、将来にわたってその真正性を保証するものでないこと、公開後の時間経過等に伴って内容に不備が生じる可能性があることをご了承ください。