Yamaha Serow 250 makes comeback for 2018 with extra 2bhp & LED tail light
In correspondence with 2016 exhaust emission rules
Yamaha Serow 250 makes comeback for 2018 with extra 2bhp & LED tail light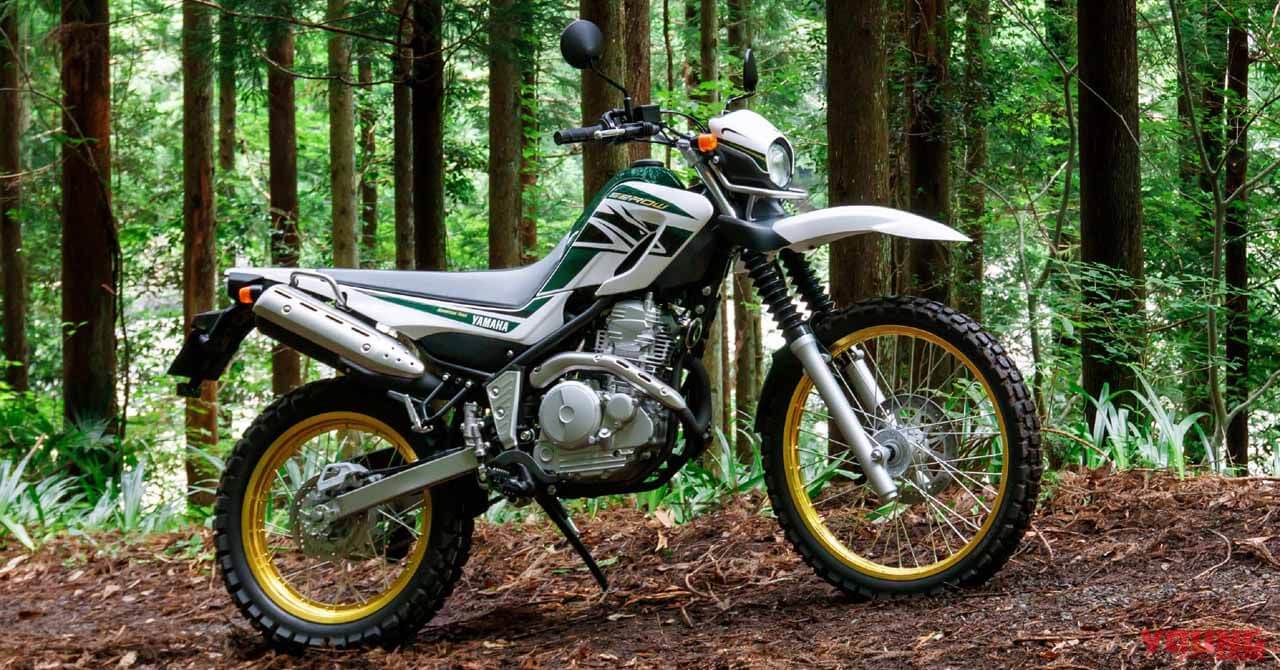 Due to the 2016 exhaust emission rules in Japan, many models went out of production in September 2017. One of those, the Yamaha Serow 250, has managed to stage a revival after a year out of production. So, we would like to share the details about it here.
Canister added to frame area
On 25th July 2018, Yamaha formally announced the new Serow 250 will go on sale on 31st August. At the time when the bike was declared out of production in September 2017, Yamaha themselves Tweeted about the possibility of a revival at a later date. Well, this can now be regarded as a certainty because its revival has finally become a reality. As you can see in the picture at the top of the page, the Serow 250 hasn't changed much compared with the previous model. The characteristics of the traditional model that continued from 1985 have been retained, and the 2016 exhaust emission rules have been met. Along with 02 feedback control FI (fuel injection), it is also fitted with a canister to the frame that reduces gas evaporating and getting to the outside air. Also, the rear fender and tail light have been remodelled.
In terms of spec the bike weight has increased by 3kg. On the other hand, fuel consumption has improved from 40km/litre to 48.4km/litre. Maximum power output is the same at 14kw, but it bhp terms has gone up from 18 to 20. Other than this, maximum torque has increased from 18nm (1.9kg-m)/6500rpm to 20nm (2.1kg-m)/6000rpm, which seems to have been achieved from a rise in compression ratio from 9.5 to 9.7. Colour variations include the continuation of the white/green, and white/orange with some detail changes, and the beige colour has been discontinued in favour of a new white/blue scheme. The price has been increased by around $500, making a total price of approx $5080.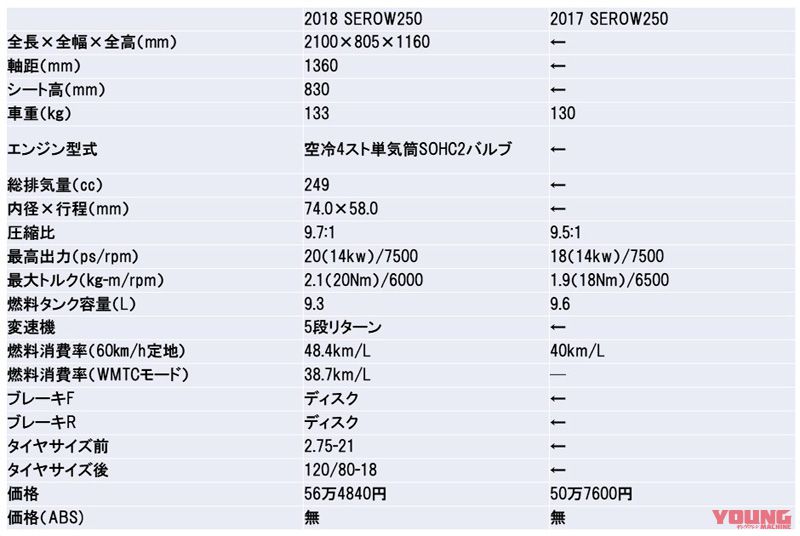 Touring Serow also based on new shape
Yamaha Motor Company have also announced that an accessory package (Touring Serow) to suit touring will be made available for the new Serow 250, and is due for release on 13th September with a new price. It will be equipped with the same adventure screen, handle guards, adventure rear carriers and aluminium under-guard as the previous model. Out of these four items, the screen, handle guards and rear carriers are exclusive development parts, and those responsible for taking charge of the design are GK Dynamics. The finish does not harm the bike's image, and is gaining popularity.
※本記事の内容は公開日時点のものであり、将来にわたってその真正性を保証するものでないこと、公開後の時間経過等に伴って内容に不備が生じる可能性があることをご了承ください。