Suggestion of development at 2013 & 2017 Tokyo Motor Show
(Scoop) Is this related to the "J" concept?! Hub-steering patent announced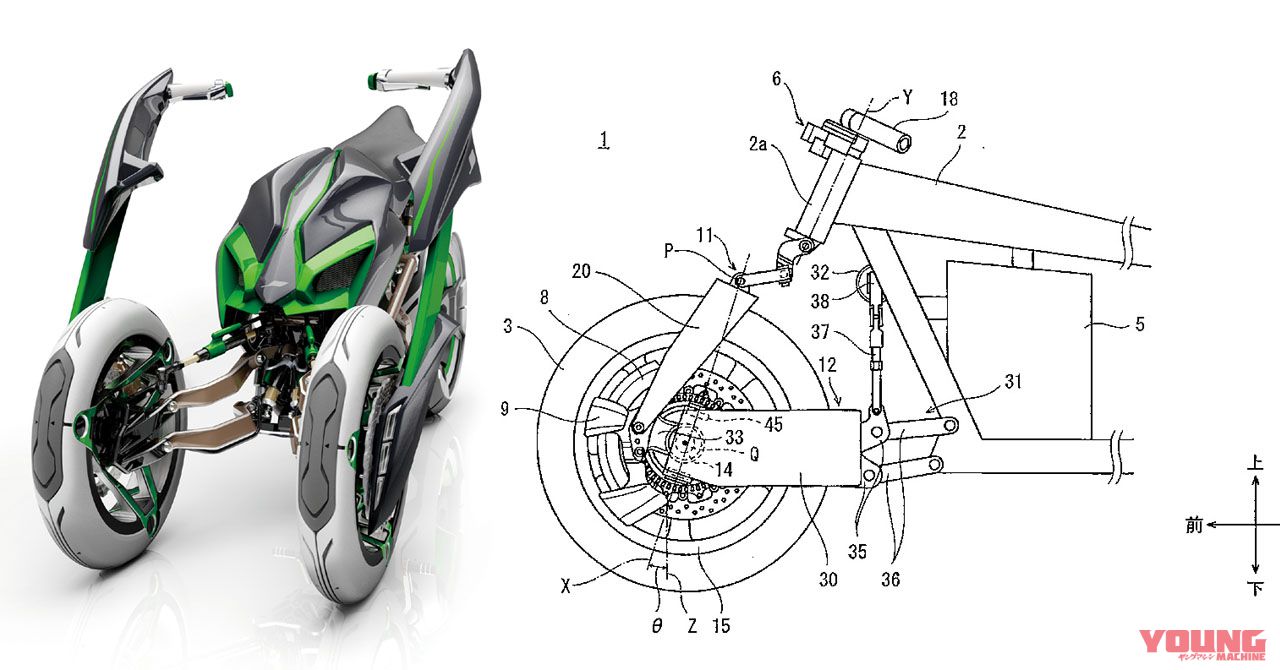 On 19th July 2018, a patent was announced that appears to be related to the super futuristic, realistic yet unbelievable Kawasaki "J" concept model. When we speak of Kawasaki hub-steering, it is the J and ZZR-X that come to mind.
The existence of the "J" becomes real all in one hit
The "J" concept model that was exhibited at the 2013 Tokyo Motor Show as a reference exhibit applied battery control technology developed by Kawasaki Heavy Industries. It is a three-wheel EV (electric vehicle) that derives its power from a large-capacity nickel hydrogen battery (GIGACELL) that is able to charge and discharge quickly. The "J" concept has been developed to act as a new personal mobility machine that responds to differing riding conditions. It does this by adopting variable positions including a "comfort mode" that offers an upright body position for pottering about around town, and a "sports mode" that makes a forward inclination so that it is possible to enjoy faster riding. Based on the fact that the front two wheels are adopt a hub-steering system, we wonder whether the display of the patent on 19th July is related to the "J" technology?! It certainly reminded us of it, anyway.
Head of Kawasaki also implies existence of "J" concept
A full scale "J" concept bike was exhibited at the 2013 Tokyo Motor Show, and in 2017 a video of the bike running was introduced. Up until now the thing we wonder about is whether the "J" model is actually under development. At the 2017 Tokyo Motor Show, head of Kawasaki Motorcycles Kazuo Ota made this comment in a presentation: "There is one more thing I'd like to say regarding Kawasaki from here on. Such things like IoT and AI are being observed, but here at Kawasaki we are also determined to deepen the Rideology concept, and we are grappling with making the connected motorcycle a reality. The 'J' concept announced at the Tokyo Motor Show the time before last is an EV that matches the riding scene and changes shape, and is equipped with interactive communication technology for the rider and machine. It senses the rider's mind and body condition, and calibrates such things as the weather condition, road surface and traffic situation, while offering the optimum riding position and various information in an instant, allowing you to experience the ultimate ride."
Based on the contents of the presentation we cannot clearly distinguish if a connected motorcycle will be produced, or if a "J" model equipped with a connected system will be produced. However, in the case that producing a bike with AI communication and variable riding positions is one of the aims, then we think the "J" concept is feasible. The next Tokyo Motor Show is a long way off in autumn 2019, but we hope to hear a fresh announcement then.
※本記事の内容は公開日時点のものであり、将来にわたってその真正性を保証するものでないこと、公開後の時間経過等に伴って内容に不備が生じる可能性があることをご了承ください。