A new choice of bike transportation other than the Hiace
New style Honda N-VAN can even load large bikes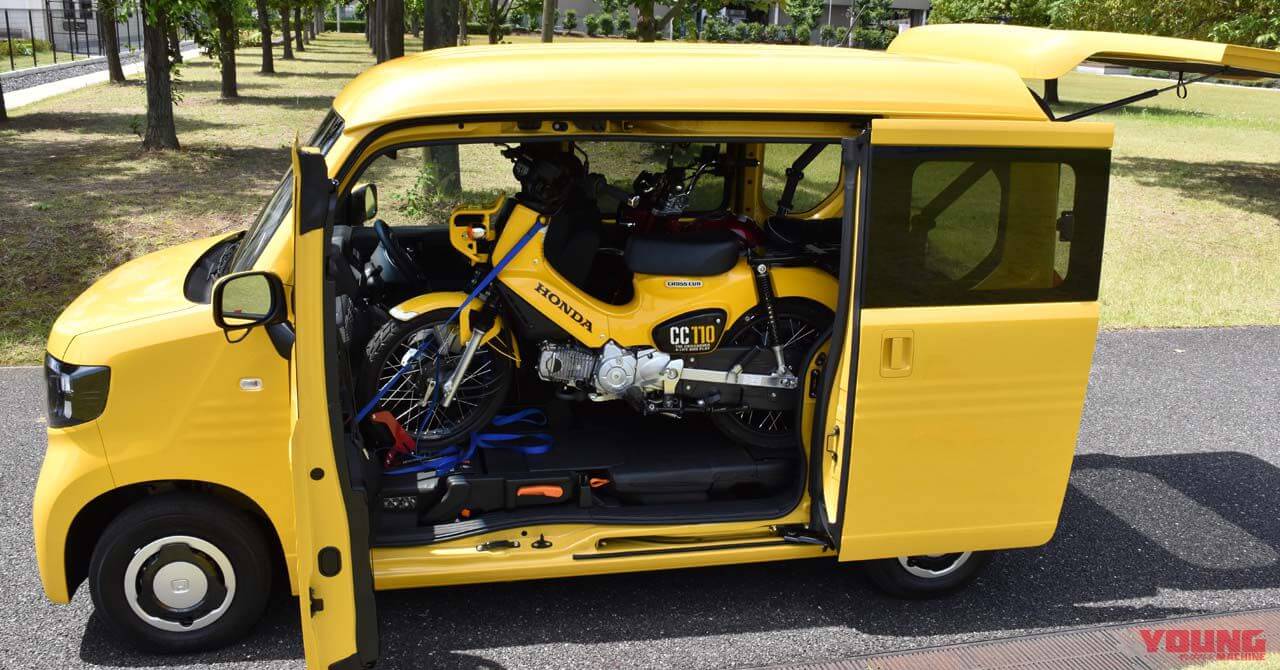 From 13th July 2018 the Honda N-BOX light passenger vehicle went on sale with a cargo spec, the N-VAN. When one says van, the typical image is of a basic white vehicle that is used for work, but the N-VAN works well for business use while incorporating various devices for general hobbies. Of course, being Honda they have also made it compatible to load a bike.
Most of the Honda bike range can be loaded
The existing Acty van will be replaced by the new N-VAN light motor vehicle that went on sale on 13th July. The N-VAN is a brand new model that has been developed with the aim of making full practical use of the existing N-BOX platform, while meeting the demands of a lightweight van that ensures a wide amount of space and an efficient loading operation. Because it is based on the N-BOX passenger vehicle it is very quiet, and due to the central fuel tank layout the floor is low and ground clearance is kept down, along with offering a tall loading space for luggage. These are all important elements when it comes to transporting a bike.
Also, we actually got the chance to try out loading some bikes like the Cross Cub 110 and Monkey 125. As you can see in the pictures it went in without any hesitation. By folding down the passenger seat a maximum space of 2635mm (Cool type 2560mm) in length can be made, so based on this it makes it feasible that big bikes can be loaded, too. Loading tests of Honda bikes were carried out while the N-VAN was in development, and it seems as though most of the range can be loaded. Because of height restrictions and its maximum weight capacity of 350kg it's no surprise that such bikes as the Africa Twin and Goldwing cannot be loaded, but the likes of the CBR1000R and CRF250 Rally have been loaded before, which shows it has a lot of potential as a bike transporter.
The seating arrangement is ground breaking
Once could say that a big characteristic of the the N-VAN is the high level of freedom within the seating arrangement. While it maintains a normal number of seats for four people, the left and right rear seats can be folded and stowed away independently. In addition to the front passenger seat that can be folded down, the left-hand side floor area can also be made totally flat. Due to this it has a lengthy 2.6 metres of loading space, so despite this being a light vehicle frame it is great as a bike transporter. Also, there are four tie-down hooks positioned around the front left-hand side, and four hooks positioned in the corners at the rear, so fixing down a bike in place is no problem. Use a wheel clamp on the front tyre for peace of mind.
News coverage co-operation: Honda Motor Company Ltd / Honda Motorcycles Japan
※本記事の内容は公開日時点のものであり、将来にわたってその真正性を保証するものでないこと、公開後の時間経過等に伴って内容に不備が生じる可能性があることをご了承ください。