Will a new shape Yamaha Serow 250 be formally announced soon?
(Scoop) Revival of out of production Serow 250, with LED tail lights?!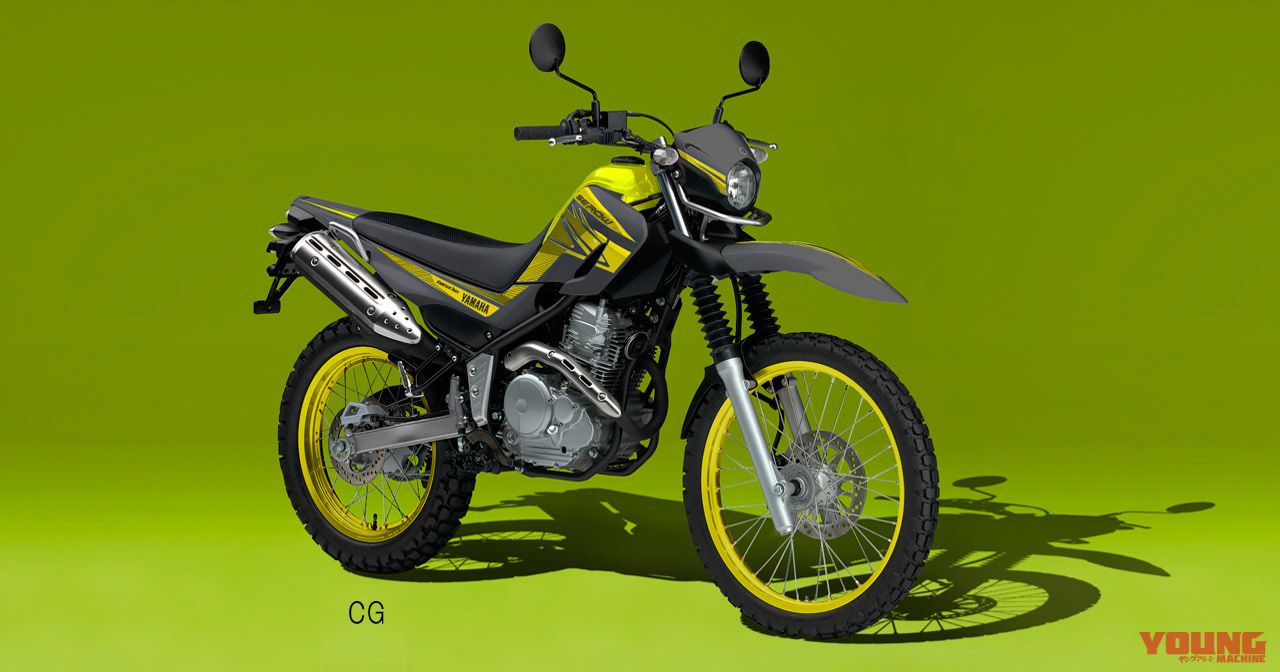 Back in August 2017 we wrote about how developments regarding a new shape Serow 250 had become clear. Due to the effects of the 2016 exhaust emission rules it had been announced that the bike would be taken out of production, but it seems like there will be a new version announced soon.
Formal announcement around end of July
Although it has already been taken out of production, "development of the next version" of the Serow and Tricker is being announced at the same time as its sibling, the SR model. These next two versions will both use the same air-cooled single-cylinder 249cc engine and body, with the main task of responding to the exhaust gas emission rules. Other than this there will be no other major changes made to the bike. There was a rumour that the engine would be water-cooled, but in-fact it seems more likely that it will inherit the air-cooled engine. Provided there is space made for the fitting of a catalytic converter, then an air-cooled engine can be used. Expected time of arrival is for winter 2018, and it seems as though the price might creep up a bit. *Young Machine, 2018 February edition (released 24th December, 2017)
From here on, the next version of the Serow is set to be announced around the end of July 2018, and will go on sale between August and September. It has been established that the Tricker will be formally announced sometime in August. Going by the information we have now regarding its mechanisms, it will follow on the same as the previous model, along with clearing the 2016 exhaust emission rules. Although no major changes will be made to the exterior, it appears as though it will get an LED tail light, but the headlight will become a standard bulb type. Of course, this Serow 250 will offer that same everlasting "get through anything on two wheels and two feet" trait, no matter what kind of road surface it faces. Even with changes made in response to the exhaust rules, the engine will surely inherit those same tenacious characteristics.
Seems like there will be a rise in price
The new Serow 250 is expected to rise in price, what with the response to the exhaust emission rules and minor changes made. It is estimated that the new model will be around $450 more than the current $4,600 model. On another note, we are still uncertain about the rumours regarding the use of an Indian spec FZ25 Blue core engine. The BS4 (Bharata stage 4) exhaust emission rules in India correspond to the Euro-3 rules, so it is the case that it doesn't correspond with the current Euro-4 level of rules that have been agreed upon. Supposing the new Serow 250 model is released, it will be essential for this to be improved. The Serow 250 and the XT250X are of the same lineage with similar fittings, so the new model should be able to take the LED tail light upgrade…
※本記事の内容は公開日時点のものであり、将来にわたってその真正性を保証するものでないこと、公開後の時間経過等に伴って内容に不備が生じる可能性があることをご了承ください。