Announced by Tamiya at the Shizuoka Hobby Show
20th anniversary! This YZF-R1M plastic model is too real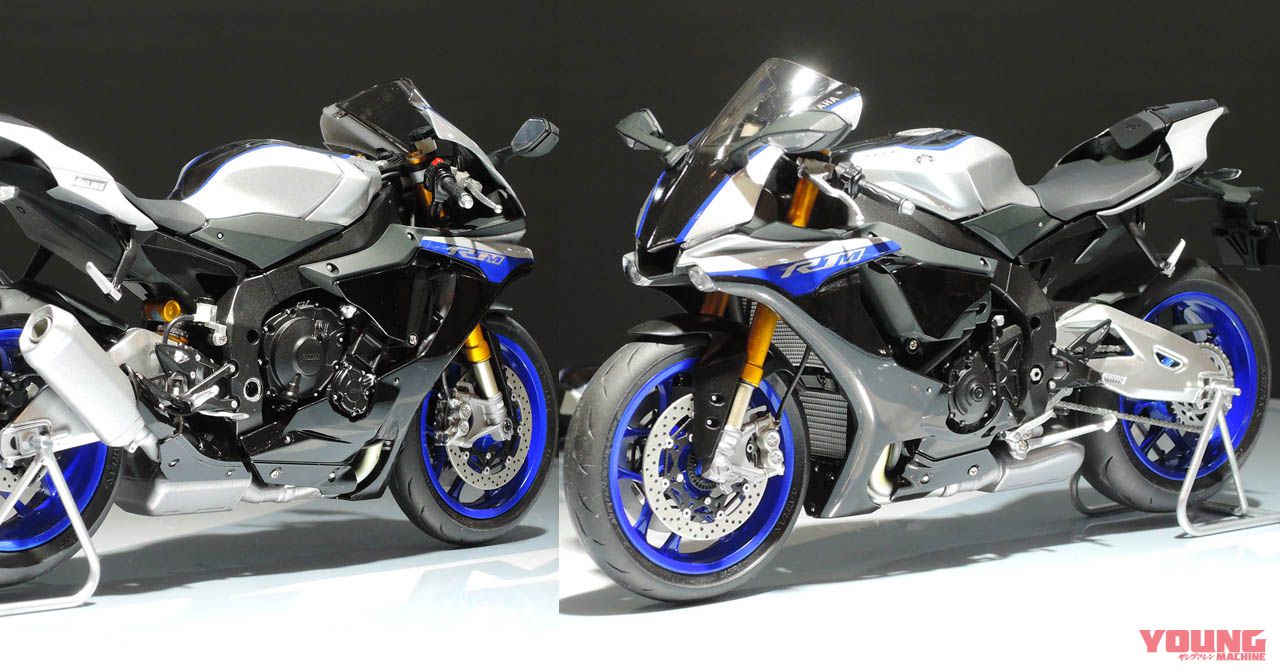 Tamiya has unveiled a 1/12 scale YZF-R1M plastic model at the Shizuoka Hobby Show, that was open to the public from 12-13th May, 2018. One cannot distinguish by the photos whether it is the full-scale real bike or the plastic Tamiya model, such is the high degree of perfection in its finish. Also, this year marks the 20th anniversary of the R1, so there was a first generation 1998 model exhibited too.       
Plastic model to celebrate the 20 year turning point (1998-2018)
At the 2017 Tokyo Motorcycle Show, Tamiya caused quite a stir when it exhibited a 1/6 scale model of the CRF1000L Africa Twin along with the real bike. Well, in May this year at the Shizuoka Hobby Show it unveiled a model of the most recent YZF-R1M. Being 2018, this marks the 20 year anniversary of the YZF-R1 that was born in 1998, so full-size bikes of the first generation and current model were all lined up and exhibited to celebrate the occasion. Of course, various plastic Tamiya models such as the first generation YZF-R1 model were lined-up on display, and also a 1/12 scale model doubled up with the first generation and current generation machines. Certainly this was nothing but an R1 related unveiling!
Even when you remove the cowling it looks super real
Much in the same way as other Tamiya plastic models, parts are broken down individually just like the real bike itself. Even if you remove the cowling you can appreciate features like the elaborate frame and engine. It has inherited details from the 2015 circuit based YZR-M1 model that has always set its sights on being the fastest. Such features include the frame, cross-plane crankshaft four-cylinder engine, electronic controlled Ohlins suspension, and the full colour cockpit meters, all of which are replicated to an incredible standard.
Further upgrade parts also announced
In addition to the aluminium made, golden anodised-finished front fork outer tubes & fork tops, it was also announced at the same time how there will be a further upgrade parts set made available with a black anodised aluminium spec. As expected the use of metal only heightens the finish yet further of the plastic model. Furthermore, there is a pre-painted rear shock spring included in the kit.
News & photos presented by Tamiya
※本記事の内容は公開日時点のものであり、将来にわたってその真正性を保証するものでないこと、公開後の時間経過等に伴って内容に不備が生じる可能性があることをご了承ください。